Over the last seven years, Neotys and Inflectra have helped many customers run successful testing without hassle with software testing. No doubt, making the tester's life easy, helping them prepare software, integrations such that they are simple to use and deliver efficient results.
Inflectra's Investment
Inflectra has invested heavily in evolving its platform of software testing. Their goal: to offer a tool that results in time savings – allowing the user to focus on other things. SpiraTeam is ready to test in minutes of launching.
As human nature is to stick to those tasks that we're most comfortable performing, the SpiraTeams' open platform, with plugins for the majority of tools available today, helps you execute testing without having to learn another toolset.
NeoLoad's Focus on software testing
With its 15 years of continued growth and market research, NeoLoad's seamless platform enables the testing of different cases/scenarios that would generally be difficult in a real environment. Over this time, it's proven a worthwhile investment for over 2,000 customers worldwide, with results boasting of 3x less testing time compared to other products on the market. Recently, the product has an increased focus on using APIs for nearly everything.
As a result of the cost reduction and total cost of ownership benefit, testers have more time to focus on validation and putting apps into production. It sure beats spinning their wheels on test case building alternative which they'd likely experience with an alternative solution. The numbers don't lie:
Test execution faster

Faster script maintenance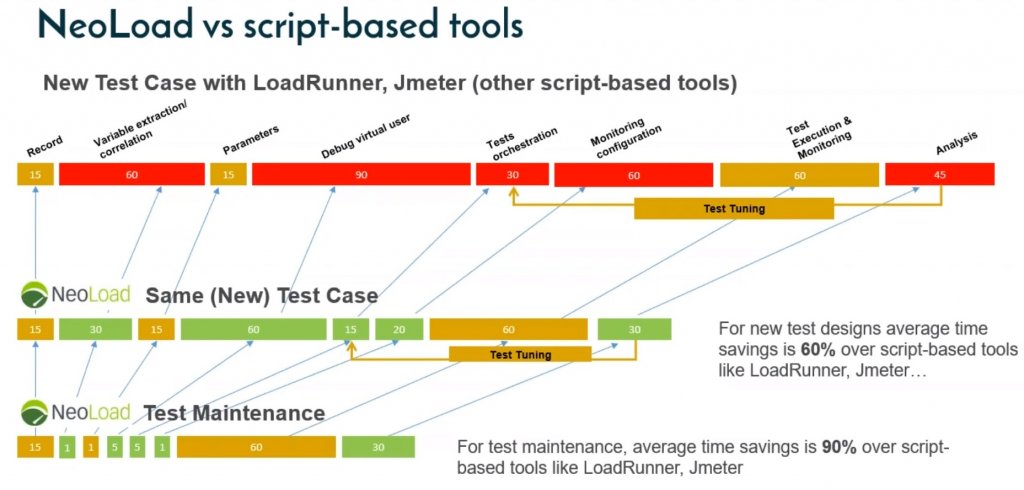 Rapise, the functional testing platform
Similar to NeoLoad but on the functional testing side, Rapise goes beyond traditional methods of script-based testing. When using script-based platforms of software testing, you will have to maintain C# libraries. But unfortunately, if you move somewhere/shift, someone has to keep all of the scripts and large configurations you put in it. This is Rapise's sweet spot – helping you save time that you would have spent on scriptwriting. It works on Web, Desktop, Mobile, and API testing.
Since Salesforce and Microsoft Dynamics have massive data stored as well as a lot of function keys on the page (making it tougher to automate), Rapise can identify the appropriate function to enable automation. This includes accommodating any platform updates that Salesforce or MS Dynamics require as well.
The combination of NeoLoad, SpiraTeam, and Rapise work together seamlessly, so you don't have to worry about the issues that come with traditional testing tools. To learn more, see the webinar recording.
Learn More about software testing
Discover more load testing and performance testing content on the Neotys Resources pages, or download the latest version of NeoLoad and start testing today.