This week's post offers the combined perspective led by valued Neotys partner Cigniti Technologies Limited, global leaders in independent quality engineering and software testing services. We appreciate the opportunity to collaborate with like-minded performance test focused professionals who share the passion for helping users continually improve.
What does an Enterprise Application do for you?
With an enterprise application solution, you can churn out real-time data and information that could be needed for any ongoing business process. This can enable enhancing customer engagement, inventory management, quality checks and management, vendor management, and an overall supply chain management.
According to a report released by Grand View Research, the enterprise application market size is estimated to be worth $259.51 billion by 2022, registering a 7.8% CAGR (Compound Annual Growth Rate) during the forecast period. The driving factor for this growth and demand is the increasing need for organizations to develop a single data access point.
Taking a cue from this, enterprise applications will determine the way organizations search and apply their data. Hence, it is critical that these applications are satisfactorily tested for functionality, performance, and security. Performance testing enables teams to improve optimization and load capacity of the software application. In this way, you can gauge whether the application can take the load of high levels of users measuring performance relative to speed, stability, and effectiveness of the output.
What can Automation do for your Performance Testing Efforts?
Automated performance testing enables teams to not only accelerate the testing process but also improve accuracy and effectiveness. Performance testing ideally starts at the baseline of the production application performance which allows testers/developers to set performance benchmarks at the beginning of the development cycle.
The performance metrics for an application can include data transactions, numbers of users loading over the application, or both factors working against the set network conditions. Working under these parameters can help development teams identify leaks and the loopholes. Moreover, it will ensure that performance testing is not pushed towards the end of the development cycle such that your application doesn't crash within the real-user-environment.
Performance test automation can be achieved by implementing tools from a range of open source and licensed tools. Nevertheless, it is important to evaluate and determine what needs to be automated upfront when you set the business objective of your investment.
Why is Performance Test Automation Critical for CXOs in the Digital Transformation era?
Be it automated load testing, stress testing, or any performance testing process, the incorporation of some level of automation has become a requirement. Every organization needs to know the breaking point for their applications, and test automation with the right tool makes the process easy and effective. Considering the implementation of a tool requires investments and expertise of firsthand users who must present and seek approval from their CXO level colleagues.
When automation is applied to the performance testing cycle, it makes the process easily repeatable, ensuring that the process is much more consistent. Ultimately, the testing process can be easily integrated within the development cycle. Continuous testing and continuous development with deployment is a dire need in the digital transformation scenario, where applications get upgraded almost routinely. Enterprises cannot afford a crash or a leak during application user experience.
Some of the most obvious and cited reasons for customer dissatisfaction are factors associated with digital commerce that generally translate into innovative customer-facing applications. An application potentially has less time to woo the users, a matter of seconds, before the user loses interest. User acceptance is critical when releasing an application within an enterprise space. The reputation of the organization depends on it.
Any such road kills can be prevented via performance testing to weigh specific scenarios, making the organization's digital interface stronger and result-oriented. A good application cannot operate efficiently merely based on strong intuitions and assumptions. Having a tangible effort and robust testing platform that ensure performance is paramount.
With the digital era challenges cropping up, applications will continue to falter with performance and security issues. Tracking the performance of the application and its deliverables is business critical. Automation not only introduces speed but effectiveness to the performance testing model.
Typical Architecture of Web-based Applications:
Performance issues can occur in any component of your architecture be it web/application servers, database, network or any other third-party components, etc.

Performance Testing & Engineering Process Flow: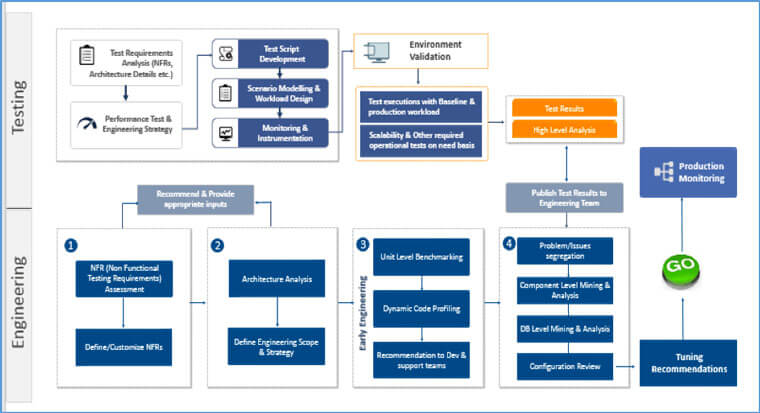 Learn More about Performance Testing
Discover more load testing and performance testing content on the Neotys Resources pages, or download the latest version of NeoLoad and start testing today.