The holiday season is right around the corner, and based on statistics from last year it's going to be a big year for e-commerce sites. According to Statista, Cyber Monday 2013 was the biggest online spending day ever, generating over $1.7 billion in sales – even more than Black Friday. This year we're bound to surpass even that.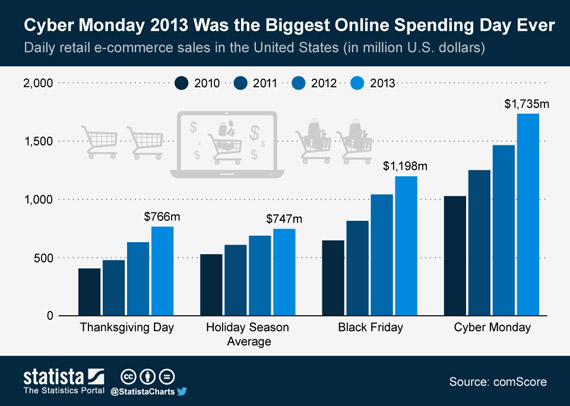 With big spending comes big planning. E-commerce sites are expecting an even bigger surge in traffic this year as they gear up promotions and online deals to consumers. This is where performance testers need to step in and prepare for a massive surge in traffic.
Pay particular attention this year to optimizing website performance by focusing on load time and mobile performance. You'll also want to be sure to choose a performance testing tool that will meet your needs for this upcoming holiday season.
Don't Sit Around and Wait
The worst thing you can do right now is wait. Before you know it Thanksgiving will be here. Then… BOOM. Cyber Monday hits like a surprise attack. If your site is not prepared by then, your company's business will suffer, and no one wants that to happen.
It's true: site performance directly affects how much money people spend on your website. Don't just take our word for it, though. Take a look at some of these website performance statistics to get you thinking:
40% of people abandon a website if it takes more than 4 seconds to load.
A 1 second delay in page response can result in a 7% reduction in conversions. To put that into perspective, if Amazon.com site is making $67 million per day, a 1 second page delay could potentially cost $1.6 billion loss each year.
64% of shoppers who are dissatisfied with their site visit will go somewhere else to shop next time.
Your website and mobile applications are going to take a big hit this upcoming holiday season. The time to prep your website was yesterday, so get started now before it's too late. Remember, a bug caught now is going to cost a lot less than a bug caught on Cyber Monday.
Focus on Load Time
Your challenge is that your websites are becoming more and more complex due to the fancy things that get added on: dynamic content, high resolution images, carousels, custom fonts, responsive design and more.
A slow time to first interaction is one of the major contributing factors to page abandonment. And the name of the game for the holiday season is to get your customers to stay on your page. As described in the above statistics, consumers simply have no patience to sit around and wait – there are too many options for them to spend their money with a competitor. Don't let that happen.
Slow page-loading times can account for much of why a website experience may lag, but images are the real low-hanging fruit when it comes to front-end optimization. Reducing image sizes will put them in a browser faster. Proper implementation of image optimization techniques like file size reduction is a great way to see a substantive impact, quickly.
But even your assumptions about proper image sizes can be misguided, especially when you consider accessing content on mobile devices. Which brings us to our next point.
Don't Forget Mobile Performance
Even if you don't have a mobile application for your e-commerce site, testing the performance of your website from a mobile device is critical as the holidays approach. Mobile statistics are just as shocking as the ones mentioned above:
People are going to access your website through their phone's browser. You need to make sure your website delivers a great experience on mobile devices just like it does for desktop users. Ask yourself questions like: Does my site load quickly on devices? How quickly is the check-out process for users? Do different devices render the content differently?
Find the Tool that Fits Your Needs
If you haven't considered a load testing tool to help you prepare for the holidays now would be a good time. It's important to understand all tools aren't created equal. Some offer more services, some offer less, some focus solely on performance, others do not. Pick the tool that will best suite your needs. There are plenty of our customers that rely on NeoLoad to get them ready for the holidays including Best Buy and more.
If you have questions about finding the right tool for you, contact a NeoLoad expert today.