It's 2008 and Neotys is revealing NeoLoad 2.4.4 which introduces its first instance of Dynatrace support. Seems like yesterday, right? Now, fast-forward eleven years (as APM has become a critical tool for every performance tester), and we're at it again with our most enhanced Dynatrace integration yet.
So what's happened during this time?
Last year during Perform EMEA in Barcelona, we had the honor of being presented the Solution Innovation Award from Dynatrace in recognition of the successful integration between our products. "Dynatrace includes the artificial intelligence needed to detect the performance issues, their origin. The natural synergy between NeoLoad & Dynatrace is a logical association as Dynatrace receives NeoLoad generated data during the test, enabling quick problem analysis," explains Henrik Rexed, Partner Solution Evangelist at Neotys. With the integration, our goal is to combine the best of both offerings. Performance engineers are now able to automate their performance tests, and operations managers to troubleshoot more effectively. Users benefit from other existing Dynatrace integrations – Jira, for example. "When a defect is identified, the APM tool automatically generates a Jira ticket equipped with all pertinent performance details related to the issue. The result: time-savings, productivity, and efficiency," adds Henrik.
How a secret meeting from the "Performance Avengers" led to a revamped integration
We wanted to go further with an integration that consolidated the data available in Dynatrace and NeoLoad, to provide real feedback on the quality of production releases. So, Henrik had the chance to be invited by Dynatrace to be part of a secret league that would save the world from poor performance. Let's call them the avengers of the performance. Go with us on this. Henrik and Andreas Grabner (DevOps Activist at Dynatrace), The "Avengers" had a secret meeting in Linz, Austria aimed at drawing up plans to thwart the evil attacks of performance defects.
After several days of whiteboarding discussion, we were drawing the perfect solution for performance engineers and SRE in a continuous deployment environment. To make our dreams come true, we decided to select the features that will be helpful to our community as soon as possible.
Back in the South of France, Henrik started to write the code of this new integration by targeting Perform in Vegas (January 2019). There, he would showcase our new artillery to dear friends during the HOTDAYS of Dynatrace. The story was simple. Show the value of real continuous performance testing in a full cloud environment. We chose Openshift, a microservices architecture, Github (source control) and Jenkins to deliver the solution.
This required automation. To make this possible, we had to remove any pre-existing configuration we had in place with Dynatrace. If you remember, previous integration instances had several requirements. One hit of Henrik's Viking hammer on the configuration engine, and "BOOM," the configuration requirement was gone. What resulted. NeoLoad is configuring Dynatrace for you.
We no longer have to worry about request attributes or apply the tags on our environment. NeoLoad, the load testing platform, does this for us.
Wait a minute. What about tagging? Consider reading the Dynatrace article on this topic.
Another big issue addressed with the redesigned integration focused on automatic issue detection via the Dynatrace AI. Right from the start, it captured a few days of production traffic (with real users) helping to articulate a real baseline. When Andreas explained to Henrik that the project could create the rules related to their SLO in the Dynatrace AI, another swing of the Viking hammer was all that was needed for testers to be able to feed the Dynatrace AI with his own SLA and SLO.
A third improvement with the integration sought to bring increased understanding of how modern architecture is behaving under load. To do this, two crucial KPIs are included: the number of processes consumed by a service (containers, nodes, etc.) and the total amount of CPU, memory, network used. Of note, if you are planning to conduct continuous testing, these are great KPIs to trend. Monitoring the utilization associated with having more containers between two builds could lead to significant regression (at least in terms of cost).
The last thing the "Avengers" wanted to do was add a toolkit to enable continuous testing in the first place. (How many times did you automate your test, detect regression, analyze to finally discover that it's not a regression but a simple deployment issue?)
The sanity check action scans the architecture, comparing it between each build. If your deployment has fewer containers or is consuming more CPU or memory, it would fail your build.
What's in store for the offering in 2019?
The Performance Avengers have teamed up again, to develop new integration for efficient continuous testing featuring Jenkins. Here's a snapshot of some of the features:
Support for teams to utilize the integration without any additional configuration (request attributes auto-created)
Creation of the tagging rules in Dynatrace so that NeoLoad will collect the metrics of the architecture by looking at the dependencies of the services as well
Simple NeoLoad traffic naming within Dynatrace to enable PurePath service flow analysis (isolated to NeoLoad traffic)
The creation of specific application rules in IA of Dynatrace. Dynatrace will then be able to detect problem-based on the projects thresholds
Monitoring action reporting the number of processes running and their CPU and memory usage for each service
Retrieval of custom metrics in NeoLoad
Sanity check functionality to validate accurate application deployment (against the baseline)
We recently hosted a webinar with Andreas Grabner, focused on explaining how to avoid extra working effort through the building of more realistic component and end-to-end testing; how to take advantage of the AI engine of Dynatrace during each test.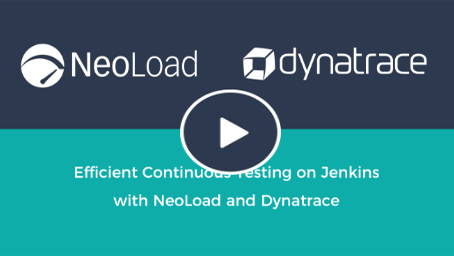 Are you planning to attend Dynatrace Perform EMEA in Barcelona (May 21-23rd)? Neotys is a proud sponsor. We'd be delighted to discuss the integration and how the combined solution can improve your testing effort.