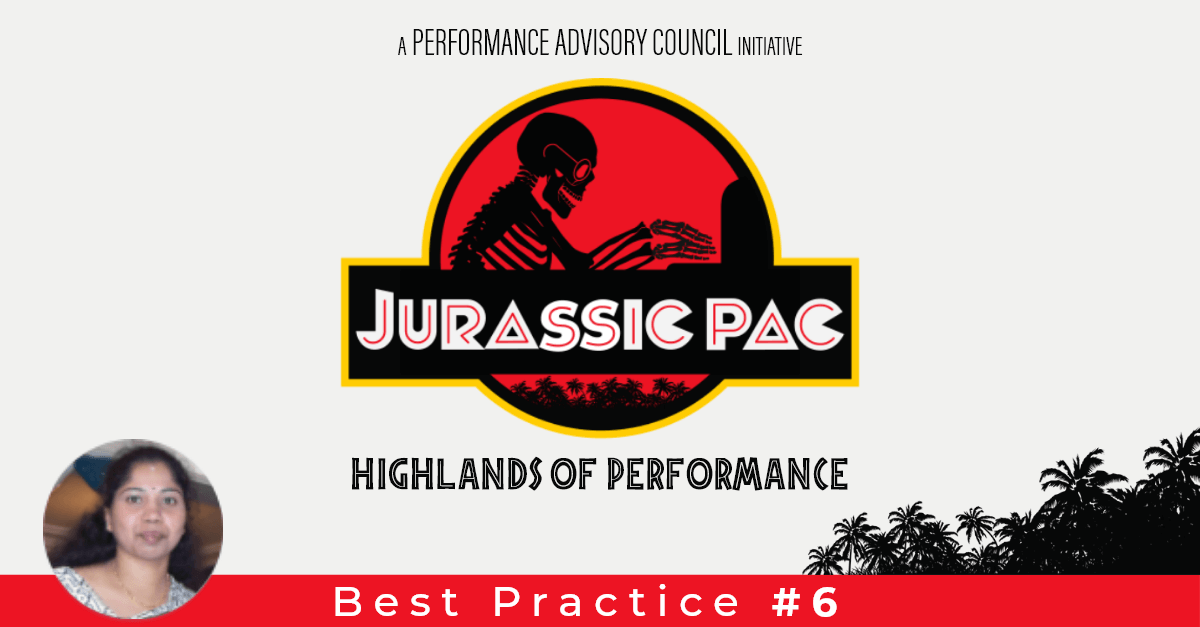 We are at a critical juncture where many professionals are seeking an answer to considering the job loss, budget cuts, shelving of programs/projects, workforce trimming, micro-management by managers, etc. — what's next, post-pandemic?  Historically, we have gone through many incidents that have affected both humans and the environment. Many animals like woolly mammoths became extinct due to glacial retreat and, of course, dinosaurs too. Some of the major events that have impacted us as a world, though, were local incidents — in the recent past are the Kuwait invasion, September 11 attack, Ebola outbreak, etc. All these events had their epicenter at specific locations, where the impact was large and where different solutions and approaches, including tighter control, got placed. But with the recent pandemic that the entire world is grappling with, we have no clue about when or where there will be light at the end of the tunnel other than following the guidelines laid down by the health authorities.
May pre-pandemic/post – pandemic be  like BC/AD?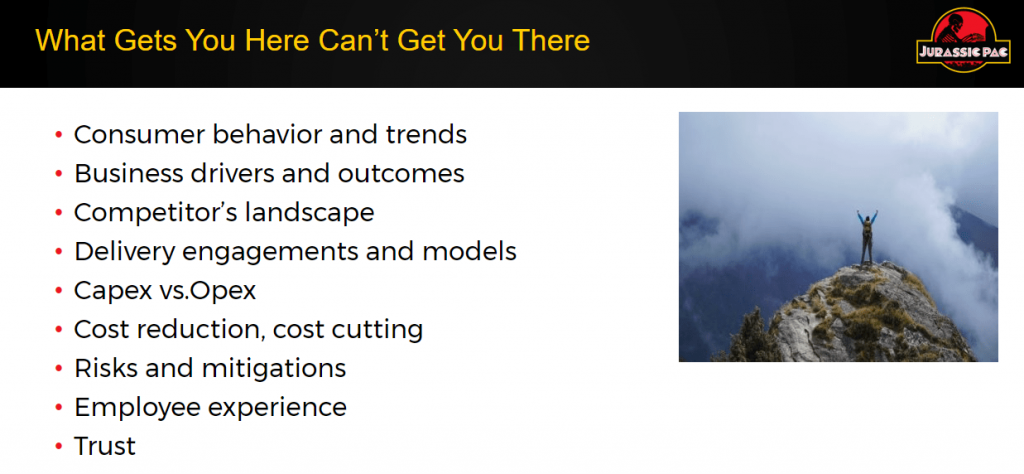 Technology and its advancement are helping many organizations run either seamlessly or with some degree of change or adaptation. Organizations that have implemented digitization or embarked on transformation have been able to withstand to some degree in servicing their customers. However, the business playing field is no longer the same, and it never will be. All the past behavior trends and strategies may not work or will need complete rethinking. Businesses are definitely going to see changes in customer buying and payment behavior as well as borrowing patterns. The historical customer behavior captured pre-pandemic is not relevant anymore as the risks, needs and spend have completely changed. For example, people have been forcefully migrated to shop online and are experiencing an entirely new customer journey. Strategies that firms adopted with linear growth, expansion plans, etc., need a severe relook and re-thinking.  Earlier, firms used to study the competitive landscape, geo and political implications, socio-economic power of the society, etc., and derive business plans. This will go through complete change in the current context.  We will now see "mindful spending" across all strata of society. This will have an impact on the applications and the sectors/verticals pertaining to customer experience, high availability, load, etc. Business will invest in "purpose-led" programs/projects that are super-critical to the company. While WFH anytime, anywhere execution model has been embraced, what needs to be seen is, is this going to be sustainable long term considering the privacy, security, well-being of the employees, etc.?  Earlier, business used to cater to stakeholders, shareholders and their customers, with employees coming lower down the ladder in terms of providing a good experience — which has definitely changed now. Sustaining and retaining trust across stakeholders was always of importance, but the rigor has intensified now. 
The critical question that comes to everyone's mind is how our future is likely to be amidst huge mindset changes. One thing that is going to change is frugality in every dimension of life. The pandemic and its impact, with no definitive timeline on normalcy, is causing CIOs to prioritize spending on technology and services that are mission critical as well as essential growth and transformation drivers. 
With physical stores being shut, most  brands (more specifically, brick-and-mortar companies) are shifting to a Direct to Customer business model. This will be primarily via mobile and digital channels, thereby increasing the need for omni-channel with increased online wallet share spend. During lockdowns, farmers in India sold their produce directly via whatsapp and phone calls to homemakers, cutting out the middlemen. Firms will be put on steroids for digital transformation: specifically, mobile, cloud, AI/ML and contactless services with faster, aggressive delivery. There will be a huge play for agile mode of execution and shortened QA cycles for quicker rollout to retain market share. The pandemic has disrupted economic and social processes and systems. It definitely has altered people's behavior, preferences, orientations and perceptions towards products, services and their usage. With past customer data irrelevant, ML/deep learning algorithms will use current data for risks, segmentation, etc.  Bot, AI and IoT usage will increase as we get through the pandemic. 
Historically, we have seen organizations applying resilience only towards IT applications and their supporting infrastructure. However, with the pandemic, it has been proven that resilience goes beyond IT applications. It needs to cater to and address processes, communication, quality, auditing, readiness, monitoring as well as whether it needs to be recalibrated or retired. Organizations focusing on just IT resilience have missed the opportunity to address the larger ecosystem. The current pandemic has clearly highlighted the shortfall with respect to addressing business resilience. 
With business adjusting to new models, leaders are evaluating their operating models and focusing on core competencies. We will see co-sourcing and outsourcing to drive capacity at lower cost. With the pandemic forcing anytime, anywhere execution, it needs to be seen whether firms will leverage gig workers — the hottest buzzword — long term. Many gig workers have lost their jobs and are looking for full-time employment. This sector is definitely a wait and watch.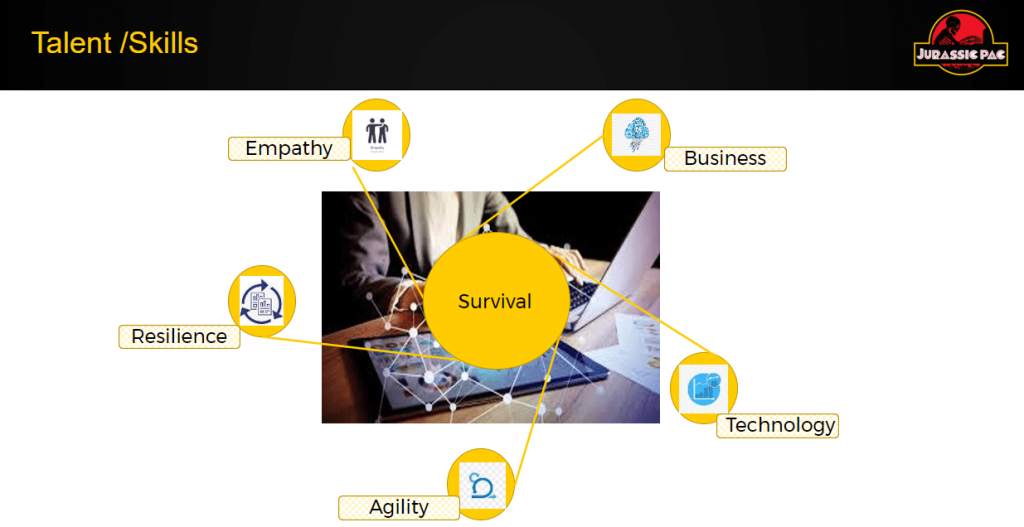 With these trends and business undergoing a tectonic shift, as a professional, one needs to enhance one's skills because today survival is the key. With WFH, collaboration, video conferencing, empathy and deep listening skills are the needs of the hour. Many reports are already citing mental illness increasing what with blurring of professional/personal work hours, Empathy is a very important skill as one's behavior is going to be recounted for many years later in one's life. Also, unlike before, employee experience will be looked upon by firms increasing their digital skills. On the business front, "cost takeout" and innovation will be critical and raise immense expectations for each employee to bring cost reduction to the table. Every professional is expected to be "innovative" as well as to optimize costs. 
Cloud, resilience and cybersecurity are must-have skills, and the faster one acquires them, the better for one's survival. Working independently and decision-making will be expected from every performance testing professional. Organizations are looking at hybrid approaches to re-skill and acquire niche skills. Agile methodology/DevOps supported with automation, end-user performance analysis, coupled with tuning recommendations will be the need of the hour. Data science will play a significant role in the analysis.
As Barack Obama said in 2017: "So even in the midst of the enormous challenges we face today, I have great faith and hope about the future – because I believe in you."
Let us turn these challenges into opportunities.
If you want to know more about Hemalatha's presentation, the recording is already available here.