It's been three weeks since Google made its Mobilegeddon update, a term that's already got its own Wikipedia entry. If you haven't been following the Mobilegeddon hashtags, here's the update: Google now explicitly favors mobile-optimized sites. That being said, Google probably enacted the changes months ago and is just now telling us.
Are you late to the party? If you have a great mobile front-end and excellent mobile performance, Mobilegeddon may not affect you much. Same goes for websites with responsive design.
However, a good number of companies will be facing major issues with Google, as their sites are not optimized for mobile. Maybe you're debating if the cost of developing a dedicated mobile site is worth it, or maybe you are struggling with how to tailor your own unique application experience down to a small four-inch screen. We understand that it's a big decision.
So, for all of us companies out there at the whim of Google, we wanted to go into a bit more detail about how Mobilegeddon will affect web products, web apps, and the performance testers behind them all.
What Is The Mobilegeddon Update And What Does It Mean For Websites?
Put simply, this is an update to Google's search algorithm. When a user conducts a search on a smartphone, Google will give priority to results that display well on mobile devices. As reported by TechCrunch, it will affect 40% of the top Fortune 500 companies.
Now – let's dig a little deeper. Did you know that the update works out better for Google devices and Android phones? It allows for push notifications from websites and displays them prominently. This means developers won't have to rely solely on native apps for notifications anymore. This has the effect of integrating Google into our smartphones even more. Google has been gunning for the application world for quite some time as native apps regularly take time away from using Google.
This Google algorithm update is even deeper than that. Parts of it pose potential development challenges in that websites must be updated with a high-level, hard-to-use HTML5 feature known as Service Worker. It also means that Chrome push notifications won't be compatible with iOS devices, which further complicates coding issues. Apple and Firefox are also looking at their own push-notification schemes, so expect a little more confusion before things really iron themselves out.
At this point, you're probably saying, "That's all fine and dandy for the front-end designers and marketing teams, but what about performance testers?" Let's take a look at the implications for you.
The Results Are In
As usual with Google, just when you think you know all about the new update, the smoke clears and you realize there's more to the story. In a post-Mobilegeddon world, experts recommend keeping your TTFB (time to first byte) in mind. It's not enough to have a responsive website because if you're still slow to load overall, you may find yourself outranked – potentially by non-mobile friendly sites that are highly optimized.
Some other interesting notes to keep in mind:
Mobilegeddon will not be rolled out everywhere. In certain parts of the world, mobile isn't prominent enough to warrant it.
This Google update may impact auto-completing URL queries for new vs. existing site visitors. That is, a new visitor may not see an auto-completion for a non-mobile-optimized site.
It is still unclear how much tablet search will be affected.
These are just some of the initial thoughts circulating the internet after the update.
What Does The Google Update Mean For Our Very Own Performance Testers?
With these new algorithm updates and a mobile-first web initiative from Google, it may affect your site's competitive rankings when searched. At the very least, you'll want to upgrade your user interface to a responsive design or custom mobile web design if you don't have one. You may have to hire help or flex some muscle with the development team to take this on.
But it's not just about having a better, flashier UI for mobile. Your UI has to perform.
Think of your mobile site as a new architectural design. Don't just import your desktop site to mobile and call it a day. You need to consider the experience of your users. Make sure there is enough space between links to make clicking on them easy. Optimize your font size and eliminate horizontal scrolling. Likewise, redirects should be seamless and unnoticeable. You should work to minimize your network latency in any way possible (See more from Neotys about how we can help).
You may also want to lay off the responsive a bit, because responsiveness can actually hinder performance as lots of content is switched around. So, don't use it for everything. Instead, here are a few ideas:
Use the viewport tag with media queries so that it rescales your site to fit mobile devices.
Utilize Robots.txt to block access to CSS, Javascript or images.
Don't use video that doesn't play on mobile devices. HTML5 video markup wins over Flash in Google's eyes.
Employ dynamic serving, which generates a different version of your site and is browser dependent.
Separate mobile sites on different URLs.
Eliminate poor linking practices on mobile sites (such as redirecting people to the home page instead of the appropriate mobile equivalent).
Always monitor your sites, check page speed and use simulated users! Minimize 404 errors, block interstitials which gate content and get rid of faulty redirects for a better user-flow.
Once you are compliant with Mobilegeddon, you may have quite the influx of users including all the users you were probably missing out on before. Be ready for the onslaught by reading this article about other ways that you can increase the performance of your mobile and web apps.
Get Ready For What May Be Coming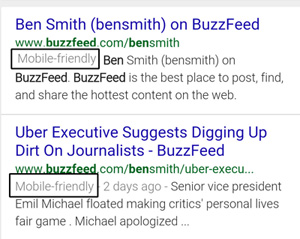 Separate from Mobilegeddon, Google already tests response times on websites, labelling those that are slow and dropping their rankings. Now, they are testing sites for mobile-friendliness. Can you see where this is probably going? Make sure your sites are high-performing on mobile because Google will probably combine these tests to include performance on mobile.
Deliver a fast, mobile-friendly web app for best results. Your customers will thank you!