Do you ever feel like your performance testing initiatives aren't getting the attention they deserve? Do they get brushed off as technical exercises? Are they considered second-rate? Do adequate resources remain elusive?
If you've answered yes to any of these questions, there may be a perception problem at play. A business manager who thinks that performance testing is a "nice to have" probably doesn't understand how vital the effort is to the overall business.
You have the power to change that.
We all know things can get crazy in the board room. With all the moving parts in a tech-heavy company, test results can take a back-seat to other metrics. In order to help your manager and high-level staff understand how performance testing directly impacts the bottom line, you'll want to look at things from their perspective: profitability, revenue, and customer retention. That's why, in this post, we'll arm you with the language and examples you need to talk about performance testing with executives.
You've Been Warned: The Health Risks Of Non-Performance
A tech-driven company is only as good as its overall customer experience, and that customer experience is only good when the product is up and running.
Consumers are becoming harder and harder to please. The web is a competitive space, and you'll need more than a strong value proposition to keep customers happy and coming back. Performance matters to your users. They want zippy, interactive access over any device they choose. If they don't get that, they'll jump ship.
As a performance engineer, you know that one of the most risky times in a business's life is when it is actually growing and everything appears to be doing well. Think about it – you are acquiring new users, your brand reputation is expanding, and while everyone else is celebrating this success you know that this is when your infrastructure is being taxed the most. If you take a wrong step… BOOM! Your website could crash and users would flee. Momentum would be halted, and you'd be cooked. But when things are going well, no one wants to think about this scenario.
So, how do you best discuss this risk with your managers so they understand it?
The Business Language Of Web & Mobile Performance
If you want to draw attention to the importance of load testing and online performance, use terms that are typically discussed in board rooms. These metrics underlie the business engine that keeps money flowing and servers running.
MRR (Monthly Recurring Revenue): This is the crown jewel of any subscription site. It is the money that comes in every month from paying users. If users stop using (because, for example, the site is slow), you'll see MRR decline which could mean the beginning of the end for your business (to put it lightly).
AOV (Average Order Value): This is a key metric for an ecommerce site, as it indicates how much money is in the cart when the user checks out. A frustrating experience may cause people to stop browsing (because it's too slow to see a lot of pages). This makes them buy less and subsequently AOV goes down.
Lost Traffic / Visitors: Virtually any online business monitors this factor closely because it's a leading indicator of success. The more traffic you have, the more people are on the site, and the more you can expect those visitors to convert to revenue in one way or another. If performance issues are impacting the user experience, you'll see visits decline – particularly those of returning visitors who got fed up and don't come back.
Conversion Rate: Do visitors buy? That's what the conversion rate measures. If they have a sub-par experience with your service, they won't buy and you'll observe that the conversion rate will go down. You don't want that to happen.
Cart Abandonment: In a real brick-and-mortar store, you would never walk up to the front counter with a full shopping cart, leave the cart, and then just wander off. But this happens all the time online. If it takes too long to check out, you'll see abandonment go up. Losing customers right before they're about to pay is painful.
Customer Churn: You spend a lot of money to acquire a new customer. When they start paying you, it's nice to keep them around. If people have a frustrating experience with web pages that don't load, they won't come back. That's customer churn, and it's money out the door. Wave goodbye!
Brand Reputation: If enough people experience problems on a site, it can develop a reputation for being hard to use. Once it's set, a reputation is a very hard thing to change. Anyone remember Friendster? That site pre-dated Facebook and could've been the world's most prominent social network, but it kept crashing, so people stopped using it.
PR Nightmare: When your site fails on Black Friday or Mother's Day or some other widely publicized moment, it can be a heart-attack-inducing moment. Fear of a PR nightmare alone can be a very powerful motivator.
Everyone Loves A Good Story
Another good way to speak with business people is to tell a story. There are few better ways to communicate urgency than by recounting what happened to someone else. The web is littered with real-life warnings. Here are a couple of tidbits that can help you communicate the relevance of performance testing and monitoring to executives.
Customers Have Ecommerce Anxiety
Did you know that research shows 10% of respondents would go through the trouble of switching banks based on mobile services alone? Further research by Kissmetrics says that web and app users care more about functionality and transactional speed than any other feature.
This anxiety translates into real dollars. Take the example of Best Buy on Black Friday 2014. Unexpected spikes in mobile traffic brought down the website and cost the company real revenue on what should've been one of the most lucrative days of the year.
Slow Sites = Poor Search Rankings
For those who didn't know, Google uses performance data in search rankings. That means slower sites will be dinged in the algorithm. While this has been true for some time, what's new is that Google now displays the fact that a site is slow in the results page.
When given the choice of search results, would you click on a site marked "slow" or would you scroll down the page to the next result? You don't want to push users away before they ever get to your site.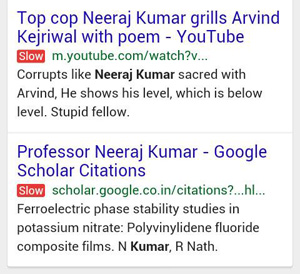 Stick To Prevention Strategies And Ward Off Big Problems
Do you need to know more about the business impact of performance testing for your website? Check ot this handy write up from Neotys that will walk you through all the business benefits. Don't miss the section on Load Testing ROI for more detail on how performance testing methods address key risks in your industry. Finally, prepare yourself with our slideshare for more advice on talking about testing with non-experts.