The 2020 holiday season is shaping up to be the biggest wave of online shopping ever. No matter how our "new normal" plays out over the next few months, there's no question that fewer people will be shopping in brick-and-mortar stores. When you consider that about half of all shoppers last year completed the bulk of their holiday shopping in physical stores, we're looking at millions of consumers who'll be turning to online retail for the majority of their shopping.
We expect online shopping traffic to spike like we've never seen before.
And that makes performance testing more important than ever. The stakes are higher this year, and today's customers have zero tolerance for slow or buggy websites and applications. More than 50% of shoppers abandon a website that takes longer than three seconds to load. They want instant gratification on any device, anytime, anywhere. If they don't get it, they'll bounce. After all, the competition is only a click or two away.
U.S. COVID-19 impact on holiday shopping methods 2020
Compared to last year, how interested are you in shopping for the holidays in the following ways?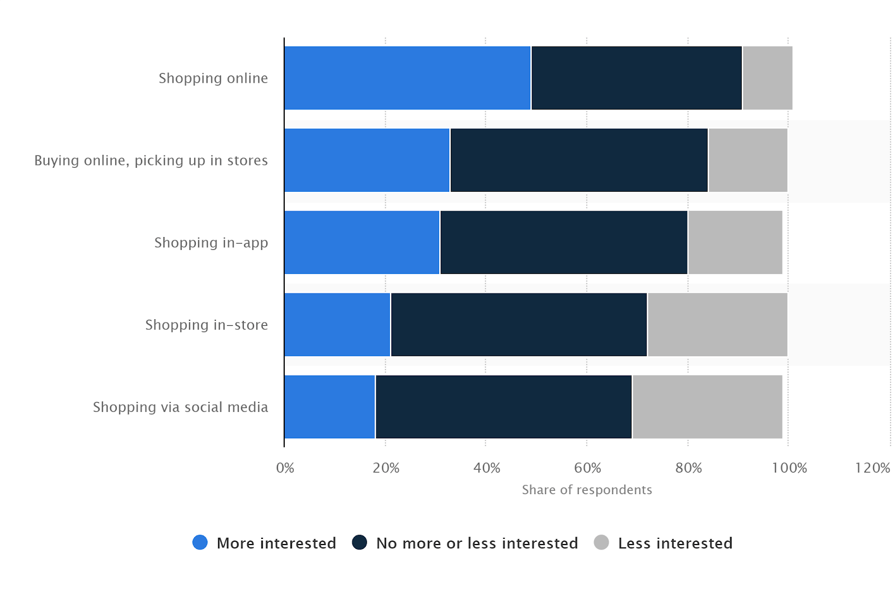 source: Statistica
While load testing for the holiday shopping season is first and foremost about mitigating risk –making sure your eCommerce system isn't sluggish (or worse, down) on Black Friday or Cyber Monday – the right performance testing solution can also be about seizing opportunity and turning digital performance into a competitive advantage. 
NeoLoad can help you not only survive but thrive in the biggest online shopping holiday season in history.
Realistic scenarios at superscale
Whatever your peak load volume looked like in the past may well be dwarfed by the 2020 holiday season. Where you may have tested performance for 2–3X your peak load, this year you might think about upping that to 4–5X.  For example, Adobe Analytics' recent Digital Economy Index report found that U.S. shoppers spent more online during the early part of COVID-19 (April-May 2020) than during last year's entire holiday season (November-December 2019).
Load and stress testing at this scale poses two challenges that NeoLoad solves: capability and cost.
One of the things we hear over and over from our retail customers (e.g., Abercrombie & Fitch) is that with NeoLoad, they trust in the test and that trying to replicate peak load with other performance testing tools returned a lot of false positives. But NeoLoad lets online retailers replicate extreme load conditions, scale up to millions of virtual users and have confidence in go/no-go decisions.
The reality is, true holiday readiness was not easily achievable before NeoLoad.
– Ajay Pedhagandham, Quality Assurance Manager, Abercrombie & Fitch
And NeoLoad lets you test at superscale without breaking the bank. If you've been using a less-modern load testing tool like LoadRunner, you know that running and re-running stress tests with a lot of virtual users gets very pricey very fast. A common bone of contention we've heard from customers is that before NeoLoad, they never seemed to have enough infrastructure to run their tests when they needed it, but then also had costly resources sitting idle when not running tests. NeoLoad lets you dynamically right-size your testing infrastructure on demand. We've seen customers realize savings of up to 80% of their cloud testing resource costs. NeoLoad also natively interacts with container orchestrators such as Kubernetes, OpenShift, Microsoft AKS, Amazon EKS and Google GKE to provision and use load testing infrastructure automatically, on-demand.
Both component and end-to-end testing: scale, speed, simplicity
In a complex, highly interwoven ecosystem like eCommerce, potential performance problems are anywhere. There are literally thousands of interdependencies — microservices, third-party APIs, plugins and other custom integrations —any one of which could be a single point of failure, create a bottleneck or degrade customer experience. Our technology partner Dynatrace has found that every customer transaction hits at least 82 different technologies. Each component or interaction may perform just fine independently on its own, but causes performance issues within the end-to-end application flow as a whole. 
The big challenge here is that the performance tools which are good at testing APIs in a DevOps environment aren't good at testing end-to-end applications. And vice versa. Other tools are either complicated and require specialized expertise or simply don't have the technological horsepower to handle complex end-to-end systems like eCommerce. 
Scripting time/test maintenance has reduced by over 80% (or,7 days down to 1
– Ajay Pedhagandham, Quality Assurance Manager, Abercrombie & Fitch
That's where NeoLoad comes in. It's the only continuous performance testing platform on the market designed for both testing complex applications end to end and automating API testing. NeoLoad is easy to use: you don't have to be a performance expert to run tests. That means teams of different skill sets and backgrounds — everyone from DevOps to COEs — can test faster, with quality control gates in place and without bottlenecking QA. And easier, faster testing means you can test more; testing more translates to greater coverage, higher confidence and reduced risk. 
Conclusion
The holiday shopping season is often make-or-break for retailers — accounting for 20–30% of their annual revenue. The 2020 holiday season could be your biggest year yet.
Performance testing ensures the speed, scalability and stability of your eCommerce system. If you want to be one of the winners in the "new normal" holiday shopping season, prepare for traffic like you've never seen before and test the performance of your eCommerce system under the most extreme conditions.
This year online retail systems will be busier and more stressed than ever. NeoLoad's continuous performance testing for retail helps make sure you're "performance ready" for the biggest holiday online shopping season ever.