As Performance Engineers, we are experiencing role evolution every day. This means that our challenges are changing too. Things like statistical analysis for load policy build, project input requirements gathering and scripting aren't the primary obstacles anymore. Instead, these have been replaced by tasks such as:
The configuration of the automated testing pipeline (including script and test project alignment)
KPI definition to detect regression
The traditional Performance Tester used to configure the monitoring of their performance testing tool. In today's world, the monitoring piece does not adequately provide the level of detail required for developers to be able to correct performance issues the way they used to. Of course, this is the reason why APM has become such an important weapon in the Performance Engineer's arsenal – outputting details requested by the developers, including visibility on app usage in production.
As you know, NeoLoad's load testing platform enables seamless integration with the toolchain. This includes off-the-shelf integrations with the leading APM solutions available:
AppDynamics
CA APM
NewRelic
Dynatrace
Dynatrace
It's been two years since Dynatrace last released their platform (delivered via AI engine), but they're at it again about to release an updated version. The team recently gave me an opportunity to review the offering, which included some firsthand testing with Andreas Grabner, DevOps Activist at Dynatrace.
With my testing behind me, I must say, that I was very impressed with Dynatrace's ability to identify problems/bottlenecks during load testing. For more details on the testing with Andreas, check out the Dynatrace Perfclinic video.
Rather than going on and on about my test results, I'm sure you'd prefer to learn how you too can take advantage of the new integration benefits associated with Dynatrace and NeoLoad. Here are a few key highlights:
Dynatrace allows several options to build load testing integrations:

Sending load testing metrics to Dynatrace
"Tagging" web requests generated by the load testing solution
Dynatrace metrics in a load testing solution

The new integration gives Performance Engineers the ability to analyze test results directly within the Dynatrace platform via the dashboard.

Dynatrace will help pinpoint bottleneck(s)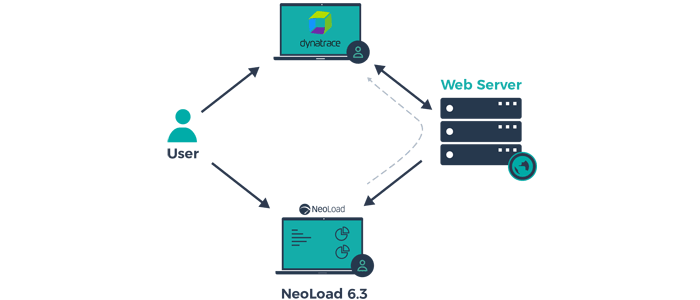 Learn More
To take advantage of all the options provided by Dynatrace, click here. For a detailed tutorial describing how to enable this integration in NeoLoad and Dynatrace, please download this how-to.
You can also watch the Kitchen TV recorded by Henrik Rexed (Neotys) and Andreas Grabner (Dynatrace) during the first edition of our Performance Advisory Council.